MEDICAL ADVICE
PLEASE REMEMBER WE ARE NOT AN EMERGENCY SERVICE
For urgent medical advice please go to a local walk-in-centre or visit an Urgent Care Service Find Urgent Care services - NHS (www.nhs.uk) alternatively contact NHS111 online or ring NHS111
Please dial 999 in case of medical emergency
For ROUTINE requests for medical advice PLEASE SUBMIT via our online triage system - CLICK HERE to submit your request
All MEDICAL request forms submitted within core working hours will be reviewed by a clinician and responded to within 3 working days
PLEASE DO NOT COMPLETE THE FORMS FOR ANY URGENT MEDICAL ADVICE OR URGENT QUERIES
WHEN CLINICAL CAPACITY HAS BEEN REACHED DUE TO SAFE WORKING GUIDELINES THE FORMS FOR MEDICAL REQUESTS WILL BE TEMPORARILY PAUSED AND THE PRACTICE WILL SIGNPOST YOU TO ALTERNATIVE HEALTHCARE PROFESSIONALS WHERE APPROPRIATE OR OTHER HEALTHCARE PROVIDERS
BEING ABUSIVE TO ANY OF OUR TEAMS WILL NOT ENABLE THEM TO CHANGE THIS SO PLEASE DO NOT SHOUT, SWEAR OR THREATEN OUR TEAMS
A member of the healthcare team will review your request and if considered to be more urgent, you will be contacted on the day either by text message or telephone contact
Our practice aim is to respond to all NON-clinical or administrative queries within 48 - 72 working hours wherever possible however due to safe working guidelines this may not always be possible.
Our online triage system is in place to enable patients with digital access to submit an online triage request requesting advice from a healthcare professional.
Patients who do not have access to the internet or feel unable to complete the triage form are encouraged to continue to contact the surgery as normal where a member of our team will be happy to either assist you to complete the form or complete on your behalf.
Our online e-consultation service will let you seek advice and guidance for routine medical enquiries, arrange FIT notes. Download the NHS App to review your recent test results and investigations and consultations.
PLEASE BE REASSURED THAT PATIENTS WHO DO NOT HAVE OR WISH TO USE DIGITAL ACCESS WILL STILL BE ABLE TO ACCESS OUR PATIENT SERVICES IN THE USUAL WAY AND WILL NOT BE DISADVANTAGED IN ANY WAY
WE HAVE NO PLANS TO CEASE OUR EXISTING TELEPHONE SERVICES AND OUR HEALTHCARE TEAMS ARE HERE FOR YOU AS NORMAL.
Contact our Patient Services Team
If you need to cancel please let us kno, our telephone number is 01772 503180
Register for the NHS App - this will allow you to:
- book, amend or cancel appointments
- order repeat medications
- view test results, documents, immunisation records and consultations
Register with the NHS app: Quick guide - YouTube
My Planned Care gives you advice and support while you wait and helps you to prepare for your hospital consultation, treatment, or surgery. This includes giving you information about waiting times at your hospital and other supporting and local services while you wait.
This site is updated weekly and can be viewed by anyone, which means you, your family or carer can all see the latest information.
Your hospital team will be in touch with you as soon as they can. If you are looking for an update, please check this website before contacting your hospital or GP as you will be referred to this link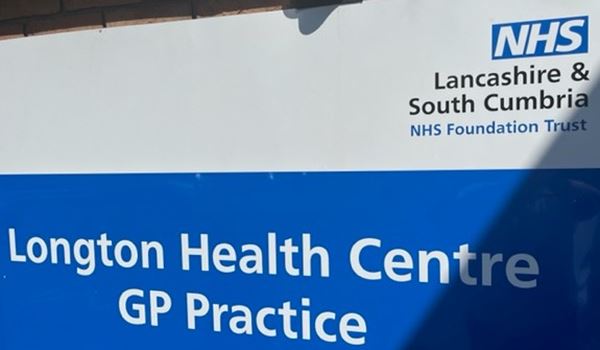 How our patients can register for the App is available here:
Pre-Bookable Enhanced Hours Appointments
As a practice we are working with other GP practices to provide a variety of pre-bookable routine healthcare appointments as part of our enhanced access services
Appointments are not available online at present and may be offered at one of the following practices by our Patient Services team
Issa Medical Centre
St Fillan's Medical Centre
Fishergate Hill Surgery
The Beeches
Monday – Friday 6.30pm – 8pm
Saturday 9am – 5pm
Please note you will be asked for consent in order for your appointment to take place at the allocated practice
As a practice we remain open on a Monday evening for routine pre bookable appointments and ad hoc clinics with our healthcare teams may take place on a Saturday at Longton Health Centre
Please note that these sessions are NOT WALK IN sessions and you will continue to be signposted to NHS111 outside of core practice hours
COVID BOOSTERS 
All queries regarding COVID vaccinations must be directed to 119.
The surgery do not have any access to vaccinations and the team will signpost you to 119.
You will be contacted by NHS England to make an appointment if you are eligible for vaccinations or additional boosters.
Face coverings encouraged whilst in and around the building
Please be advised that if you are visiting our GP surgery we will continue to respect your choice to wear a facemask or face shield whilst in and around the building and during your consultation.
All our healthcare staff, volunteers, patients and visitors to our practice will still be encouraged to continue to follow the below:
HANDS: Wash hands regularly with soap and water or hand gel if hand washing facilities are not available
FACE: Wear a face covering in practice buildings if individuals choose to do so
Thank you for helping us continue to respectfully keep our vulnerable patients and staff safe during your visit to the practice and in consultations
Newsletter
To receive future editions of the newsletter straight to your inbox sign up below.
Would you like to leave some positive feedback?
As a practice we really do appreciate hearing from our patients regarding their experience when using any of our associated services.
If you have had a positive experience with any one of our team, please don't hesitate to let us know.
A member of our patient services team can provide you with a feedback form or, if you aren't in the practice, we can complete the form on your behalf over the telephone.
Whether it's big or small, a compliment goes a long way!
Likewise, if your experience hasn't been so good we'd like to know - we are constantly striving to improve services for our patients